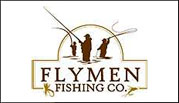 A step at a time:
BABY WOOLLY BUGGER
PDF print version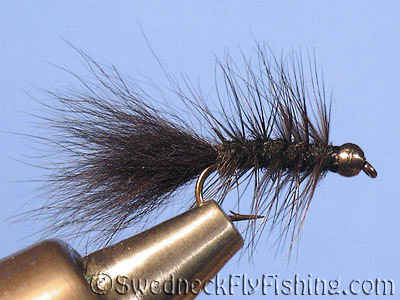 Originator: Peter Frailey

Hook:
Wet fly (2X long) or streamer, #12-16
Weight:
Brass bead 2,5mm, black and
thin lead wire (alt. copper wire)
Thread:
Gudebrod 8/0, black
Tail:
Rabbit underfur
Body:
Hare's Fur dubbing, black
Hackle:
Hen, black
---
(Full-size pictures on click.)
Slide a bead onto the hook, secure it in the vise and add some lead wire for weight
Push the lead wire into the back of the bead and secure it with the thread.
Tie in a tuft of hair from a rabbit zonkerstrip. Cut the waste right behind the lead wire wraps to get a smooth transition without bumps.
Tie in a black hen hackle in the tip end.
Dub the thread with a black dubbing of choice. Here it's Hareline Hare's Fur dubbing.
Wrap the dubbed thread all the way up to the bead.
Start the hackle with a full wrap and then palmer it forward. Finish with another full wrap before it's tied off just behind the bead.
Whip-finish behind the bead.
The baby version for the monster trout.