---
THE SHOW...
Tying at the Sowbug Roundup is FUN. First time I was invited I was very honored, but quite new to public tying. Sitting with tiers like those around me made me really nervous and I could never relax enough to fully enjoy it. This time though, I had enough public tyings behind me to have realized that the visitors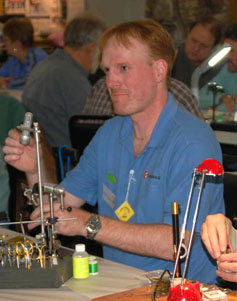 are there to watch you tie and not to judge how well you do it. So instead of studdering when chatting to the people, I could now even look them in the eyes and smile when I talked to them. The visiting people don't bite...

I had my tying schedule planned like last time. The first 4 hour session was set aside to do some "vendor raiding" and buy a couple of Dennis Conrand's JV Hen skins before he was out. I also wanted to walk around and watch the other tiers. There are some really skilled ones attending the show, so I didn't want to pass on the opportunity to actually see them tying in real life. A few of the well known names this time were Hans Weilenmann, Richard Ross and Jay "Fishy" Fullum. Walking around and watch the work of 100+ top notch tiers is an inspiration kick and you WILL see a lot of new things that you "just have to try" when you get back home.

The afternoon session and the following two days were spent behind my own vise, tying myself. A lot of people were watching and it was clear that the parallel weave isn't the most used technique on the planet. I tied woven antron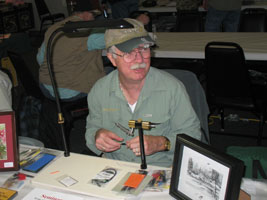 patterns for two and a half days and had someone in the opposite chair almost constantly. I just hope my demonstrating and explaining was sufficient to make a few of them manage the weave at their own vises.
One of my top moments of the show was when Tony came up and told me that Fishy Fullum wanted one of my woven damsel nymphs and that I should set one aside for him. That took my breath away. The signed hopper I got in return is going to be treasured.
Together with Richard Ross and Hans Weilenmann I headed for Springfield airport the following Monday. In the car came the other top moment of the trip, when Hans invited (or, in his words "recruited") me to tie at the Dutch FlyFair 2008. Needless to say, an invitation like that was not to be ignored. But that one will be another story. :o)
Summary of the trip: I met a lot of old friends, I made a lot of new friends, I drank a lot of Root Beer... and yeah, I tied some flies too.

Look at a few photos from the show...
Look at a few "off duty" photos...